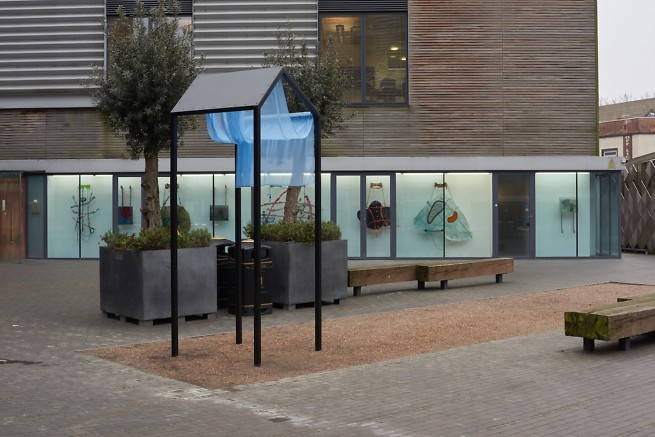 Edit Oderbolz_ Behind the Lid_ SCULPTURE AT_SYMPOSIUM
19th September 2018
19th September 2018
Share
To mark the second stage of SCULPTURE AT Bermondsey Square, VITRINE and Contemporary Arts Society hosted an afternoon of presentations, talks and panel discussions on the theme of art in public space and temporary public commissions; with a programme hosted at the cinema on Bermondsey Square in the final month of SCULPTURE AT Bermondsey Square commissions, Stage Two (2017- 2018).

SCULPTURE AT Stage Two, included commissions by Lucy Tomlins (March – September 2017), Charlie Godet Thomas (October 2017 – March 2018) and Edit Oderbolz (April – September 2018).  Firstly, British artist Lucy Tomlin's presented 'Pylon and Pier', which reversed the idea of traditional sculpture by presenting a statue of the Titan Atlas – not as in Greek mythology holding up the sky for eternity, but fallen from its plinth and, grasping the globe, lain on its side. British-Bermudan artist Charlie Godet Thomas' sculpture entitled 'Cloud Study', used the form of a weather vane to represent states of emotional well-being. The final and current commission, by Swiss artist Edit Oderbolz and titled 'Behind the Lid', draws from the various uses of the square and takes the form of a house.

This afternoon Symposium was open to all audiences; curators, artists, organisations working with art in public space, public sculpture commissioning bodies, CAS national networks, and other interested individuals in public art. This was a rare opportunity to acquire behind the scenes insight into curated public art commissioning projects.
From 2-5pm, 
This was a FREE symposium. However, booking wasessential and an advance seat fee of £5 is requested to help ensure tickets are not booked and left unused. This cost has cover refreshments of teas and coffees for guests in the interval.
Photo © Jonathan Bassett