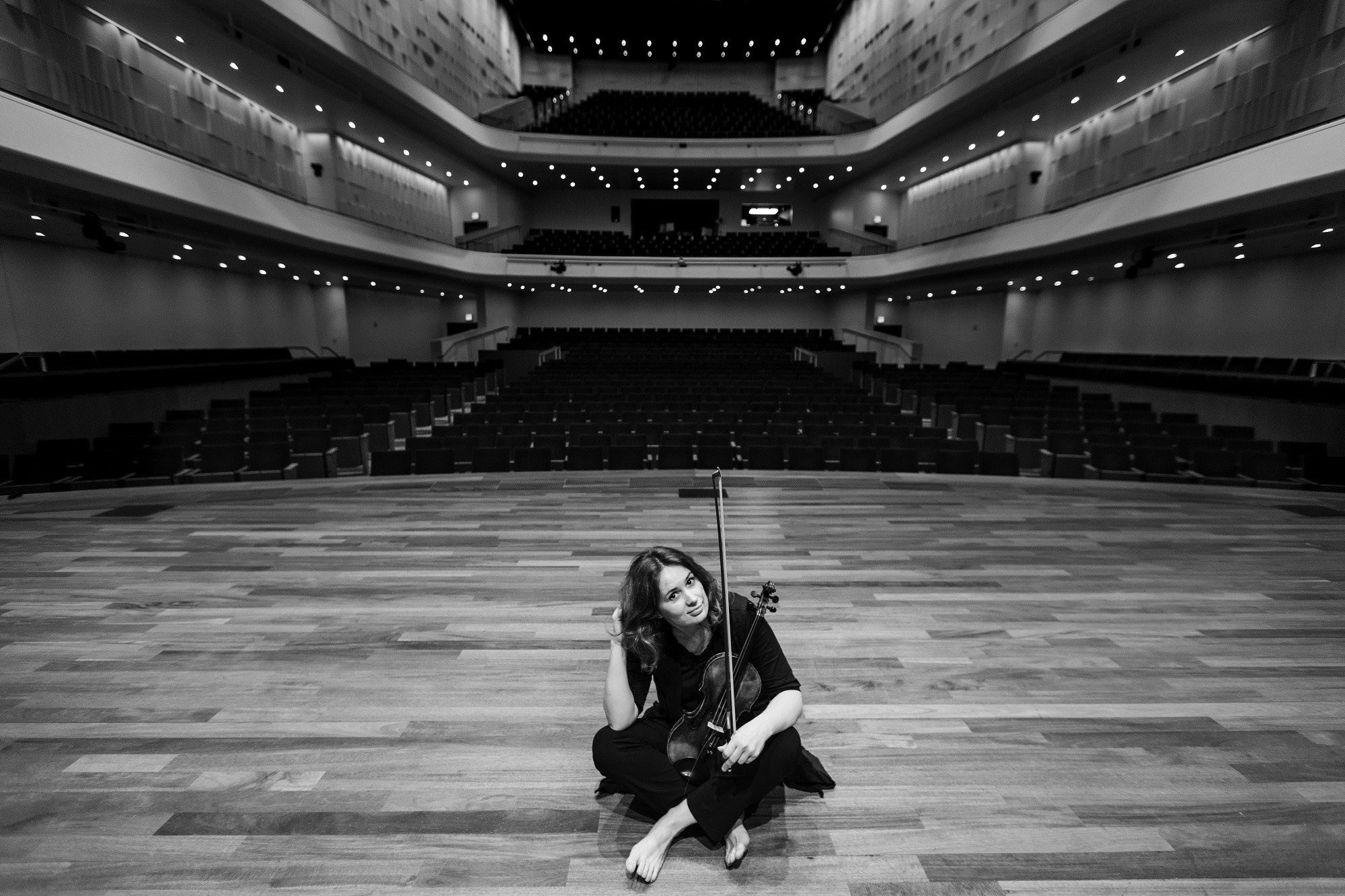 PATRICIA KOPATCHINSKAJA _ BARBICAN ARTIST SPOTLIGHT SERIES
15th February 2023
16th April 2023
Share
The Barbican, London, presented an Artist Spotlight series with Moldovan-Austrian-Swiss violinist Patricia Kopatchinskaja, including a masterclass with students of Guildhall School of Music, a recital with Joonas Ahonen at Milton Court Concert Hall, and a performance with Ensemble Resonanz and Anna Prohaska in the Barbican Hall.
Violin Masterclass
Wednesday 15 February 2023, 7pm, Milton Court Concert Hall
Patricia Kopatchinskaja, a violinist in 'a class of her own' (The Times), passed her knowledge on to some Guildhall School players of the future in this evening's Artist Spotlight Masterclass.
Patricia Kopatchinskaja & Joonas Ahonen
Friday 17 February 2023, 7.30pm, Milton Court Concert Hall
In the first recital of her Artist Spotlight, Patricia Kopatchinskaja brought her fresh interpretations to Beethoven and 20th-century classics. In Beethoven she meets a fellow revolutionary who describes human experience in all its power, from beauty and purity to anger and heartbreak. It's all there in his Sonatas for Violin and Piano – a marriage of equals full of drama, passion and humour.
Maria Mater Meretrix
Sunday 16 April 2023, 7.30pm, Barbican Hall
Patricia Kopatchinskaja brought together an unusual selection of short pieces with one thing in common – they're inspired by the figure of Mary Magdalene. Sweeping across time from 12th-century von Bingen and 16th-century Victoria to the more recent Kurtag, Tavener and Xenakis, Kopatchinskaja examines how composers have viewed this key figure.
On one level it's a perfect potted guide to the history of classical music. On another it reflects on a serious question: how have composers treated women across the centuries? To find the answers, she's joined by Austrian-English soprano Anna Prohaska and Ensemble Resonanz, musicians who match her dynamism, communication and in-the-moment energy perfectly, for what promises to be an exciting and unpredictable musical adventure.
© Eric Melzer
Patricia Kopatchinskaja on Maria Mater Meretrix
It's a journey through the female identities, character, visions of women - from the holy virginity, muse, motherhood to object of lust and many others. The central piece is Maria Triptychon by Frank Martin that we dearly wished to perform together. The programme travels through many centuries and is based on the duet between the wonderful and unique soprano Anna Prohaska and me as violinist. It's not easy at all to play without a conductor - but maybe that's why it's so much fun, because every musician bears their own responsibility and can shape and determine their own voice, listen carefully, and know the piece.

My favourite pieces though are the ones from the Kafka-Fragments by Kurtag. They are the shortest ones but the essence would be enough for a whole life.

If I suddenly ended up on a desert island for the rest of my life and only had one piece in my suitcase - Kafka-Fragments would be enough for me.

The process of composing this programme as always was fruitful - but having many desires and ideas one still has to reduce and form it in a suitable dramaturgy. Such programmes are unique and very personal.

To catch and keep the attention on what is happening on stage is the goal. Musician and audience are joining the same adventure, but everybody will have their own images and stories - this is not under the musicians' control. But I do think a good concert is a sort of hypnosis.
Read the full interview on weareswitzerland.uk.